Game of Thrones Party Parfaits
Have your Game of Thrones viewing party in style with these fun party parfaits! Includes a quick and easy tutorial on how to make the flags, too!
This post contains affiliate links. Read the disclosure policy.
Table of Contents
About Game of Thrones Party Parfaits
We're almost to the end of April, and you know what that means – it's Game of Thrones season! Or at least, that's what it means in my little corner of the world. Fall shows are ending soon which means GOT is about to get the full brunt of my weekly TV obsession.
So in just a few days, my entire week will revolve around waiting for Sunday. And no pressure, season six, but I've got some pretty high expectations for you, like (SPOILER ALERT for those not caught up to season five! Look away, look away!) what Jon Snow's true fate will be? Will Bran Stark ever get off the HBO-chosen Ship of Abandoned Plot Lines? Is Arya really blind? Do I still hate Theon after he helped Sansa? Are the Lannisters and their superiority toast? And will Daenerys (my pick in the GOT race!) ever get out of the freaking desert?
(END spoiler alert!) But while I hope season six answers all of these burning questions, I do have big hopes for the first episode this Sunday. HBO better be ready to dazzle me and put me on the edge of my seat for what's to come, because I'm going to be watching in style…  with these Game of Thrones Party Parfaits!
You guys already know how much I love parfaits, so I couldn't resist coming up with something fun for one of my favorite shows. The desserts themselves are pretty basic – some homemade whipped cream, some fruit, some graham crackers – but the real fun with these parfaits are little flags that represent each house.
Because maybe you'd like to support House Stark? Er, well, what's left of them, anyway. Blackberries and bananas are a close match for the House Stark colors of gray and white. Add a wolf flag and you're ready to hope the rest of them stay alive!
Or how about House Lannister? Cause I gotta admit, Tyrion is kinda my fave. Strawberries and bananas make an easy color choice for House Lannister's red and gold. Finish off the look by topping it with a lion flag.
And let's not forget House Targaryen. I think my girl Daenerys will rule one day…  if, you know, she'd stop getting sidetracked with all those subplots in the desert. Blackberries and raspberries were perfect for the black and red of her banner, and the three dragon flag planted on top completes the parfait.
And the house-themed parfaits doesn't have to end there. As I'm sure you already know, there are a ton of interesting houses in Game of Thrones, and making a parfait to match any of them is really simple. Just use this color guide as inspiration for your own house & flavor concoction:
Red: strawberry, raspberry, maraschino cherry
Orange, Yellow, Gold: orange, banana, mango
Green: kiwi
Black: blueberry
Blue, Purple: blueberry, blackberry
How to make the flags
If you'd like to make flags like the ones pictured, you'll need 4 things:
Printouts of the house graphic you want to use. To use the ones pictured here (complete with the flag shape), I bought this set off Etsy for $5.
Scissors.
Toothpicks.
Scotch tape.
From there, all you need to do is print out the flags, cut them, and tape a toothpick to the back.
If you purchased the above Etsy printable and want to print out multiple flags per page like I did (as pictured above), follow these steps:
For this to work, you need 12 copies of the same page/graphic in a single PDF file. The easiest way to do this is to create 12 copies of the original PDF file (just copy + paste the file 12 times in whatever folder you've stored it in) and then merge them together into one PDF. If you're using Adobe PDF, check out these four options for merging PDF files. I recommend using method #2, #3, or #4.
When you go to print, look for a setting of "Pages Per Sheet." Set this to "Custom." In the box beside it, set the layout to be "3" by "4." If everything is working correctly, you'll see a preview on the right-hand side of the print screen that shows 4 rows and 3 columns of the house flag graphic. Double check that your print screen looks like this:
From there, all you have to do is print, cut them out, and tape them together. Voilà, you now have snazzy Game of Thrones flags to plant in your season premier party parfait!
Have fun watching the season premier this weekend – I know I will be!
Looking for more Game of Thrones eats and crafts? Check out these!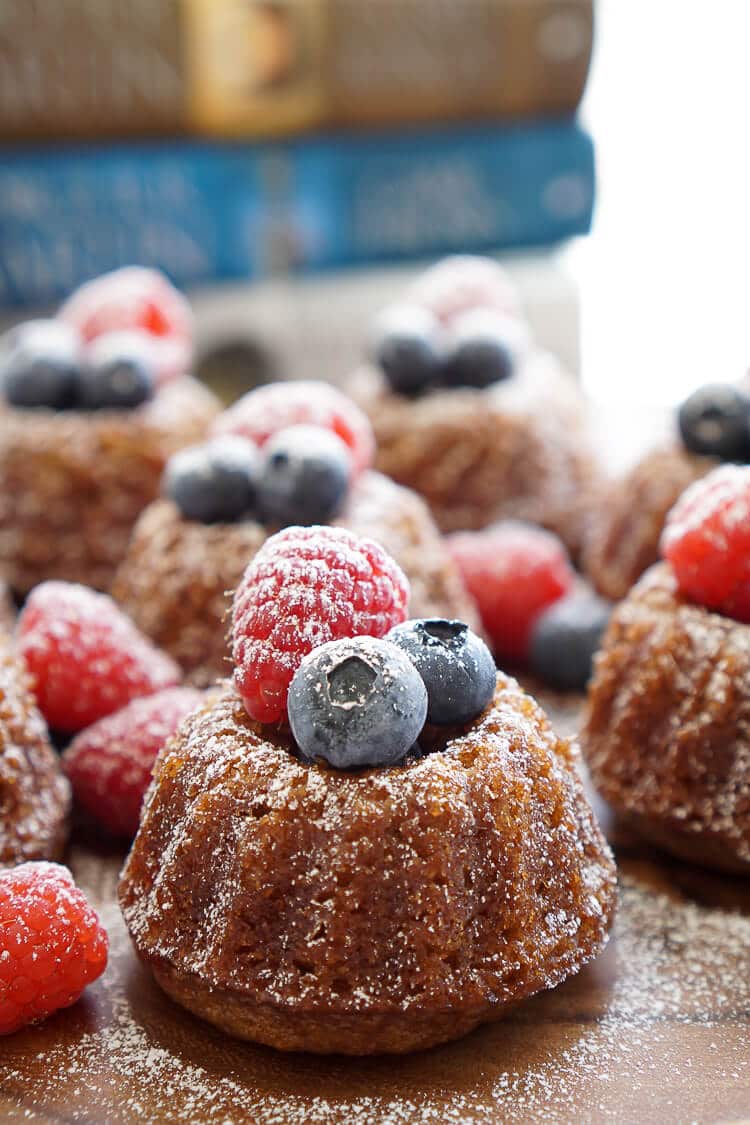 Game of Thrones Honey Cake by Sugar & Soul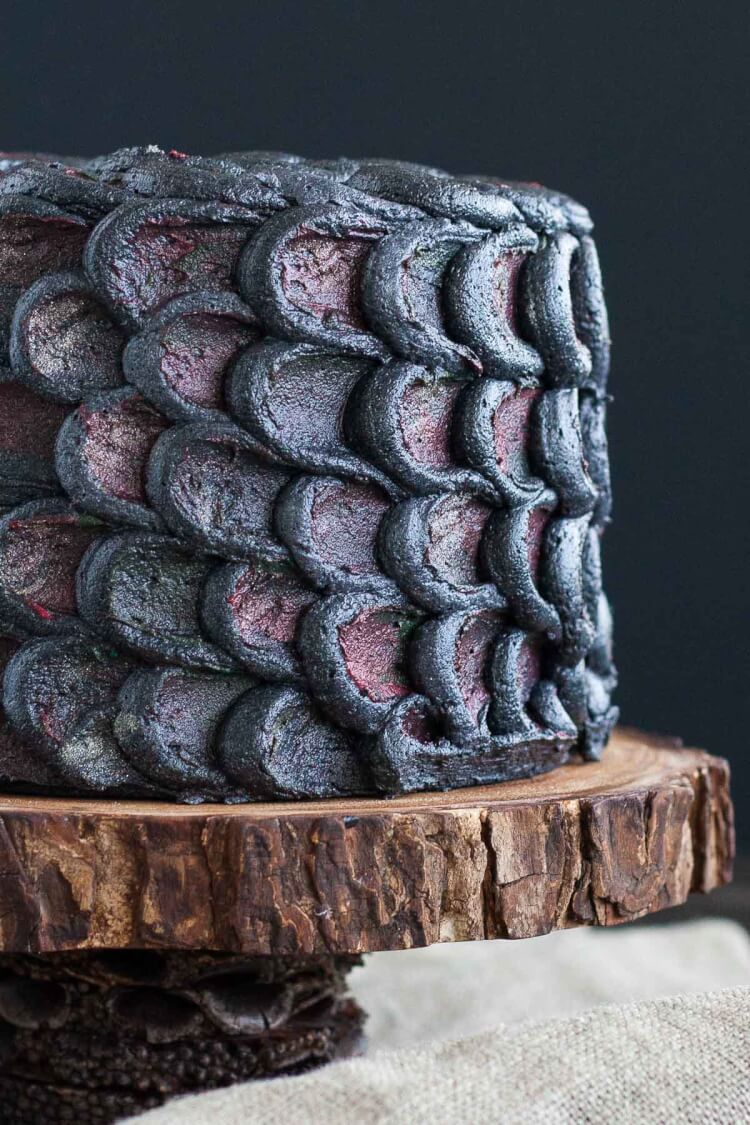 Game of Thrones Dragon Scale Cake by Liv for Cake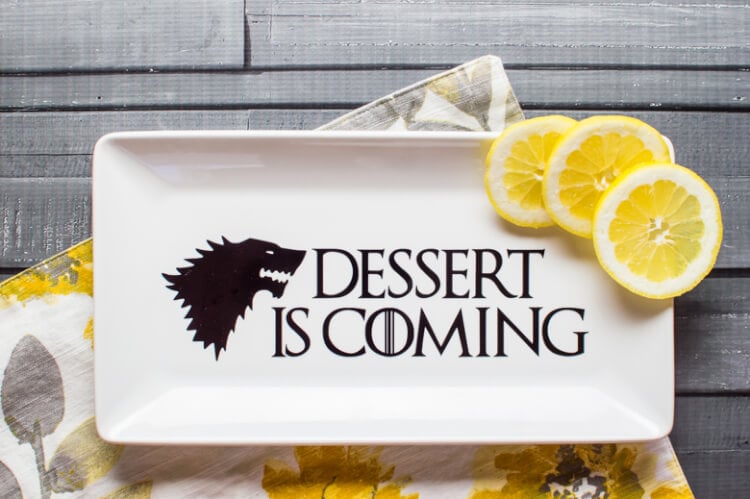 Game of Thrones Dessert Plate by Simply Made Fun
Recipe Details
Game of Thrones Party Parfaits
Yields:
3
large parfaits per house recipe
Have your Game of Thrones viewing party in style with these fun party parfaits! Includes a quick and easy tutorial on how to make the flags, too!
Ingredients
House Stark Parfait
2

cup

heavy whipping cream

,

cold

3

bananas

,

cut into bite-sized pieces
House Lannister Parfait
2

cup

heavy whipping cream

,

cold

3

bananas

,

cut into bite-sized pieces

1

cup

strawberries

,

cut or sliced (your choice)
House Targaryen Parfait
2

cup

heavy whipping cream

,

cold
Instructions
For the Whipped Cream
Using a stand mixer (or hand mixer + large bowl), add in chilled heavy cream, powdered sugar, and vanilla and beat on high until stiff peaks form, about 5-7 minutes.
Assembling the Parfaits
Using the cream in the above step and the fruit of your choice, layer your chosen house parfait as you see fit. to do it as pictured: layer a heavy portion of cream, then a layer of crushed graham crackers, followed by the fruit combination of your choice, and finish off with another hefty layer of cream.

Plant your house flag at the top (instructions to make them above in the post) and serve immediately.
Nutrition
Serving:
1
parfait
|
Calories:
2631
kcal
|
Carbohydrates:
221
g
|
Protein:
23
g
|
Fat:
190
g
|
Saturated Fat:
112
g
|
Cholesterol:
652
mg
|
Sodium:
1017
mg
|
Potassium:
1721
mg
|
Fiber:
19
g
|
Sugar:
107
g
|
Vitamin A:
7373
IU
|
Vitamin C:
82
mg
|
Calcium:
467
mg
|
Iron:
7
mg
I do my best to provide nutrition information, but please keep in mind that I'm not a certified nutritionist. Any nutritional information discussed or disclosed in this post should only be seen as my best amateur estimates of the correct values.