"These creepy (and easy!) Halloween cakes are perfect for any party! Spongy mini buttermilk bundts are drenched with red glaze and speared with candy knives."
So, you guys, I am extremely excited about this recipe.
Like, beside myself excited.
I dare say that I can't even right now.
Because you see, I haven't had this much fun with developing a recipe in a long time. And if I'm being honest? All that fun was probably because this recipe was so simple to put together and yet still looked so cool.
I mean, just check out this video. If you're on the hunt for a fun treat to serve at your next creepy party, these Halloween cakes are so totally it!
This whole idea started when I bought a package of candy knives. And why did I buy candy knives, you might ask? Well, I was in the grocery store, spending way too long browsing the the Halloween display, and there they were: adorably teeny tiny knives made out of candy.
I think the better question here is why wouldn't I buy candy knives.
Anywho, the idea sort of developed from there. The package already had a picture of a knifed cupcake to give you an idea of what to do with these fun little knives, but all I could think about was this mini bundt cake pan I bought forever ago (because I simply "had" to have it) and had yet to ever use.
With the idea in place, all I had to do was nail down the flavors and colors, but that was a breeze. Pale buttermilk bundt cakes were the perfect contrast to all that red glaze!
The only thing difficult about this recipe is applying the icing and I, She Who is Perpetually Challenged in Realm of Cake Decorating, was able to decorate these mini bundts perfectly in only one shot (and capture it all on film, no less!).
I know I always say this, but I really mean it this time: if I can make killer mini bundts that look this good then anyone can.
Plus, these Halloween cakes would be perfect for any sort of themed party:
Friday the 13th
Michael Myers
The Walking Dead
The actual Halloween movie
Scream Queens
Ash vs Evil
Evil Dead
etc, etc!
There can never be enough Walking Dead, so I connected with some friends to bring you more ideas!!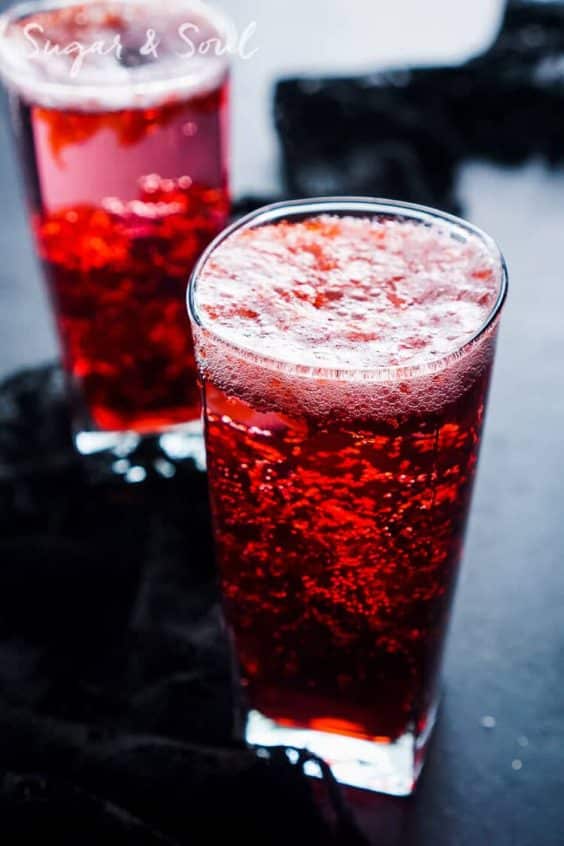 Blood & Guts Cocktail from Sugar & Soul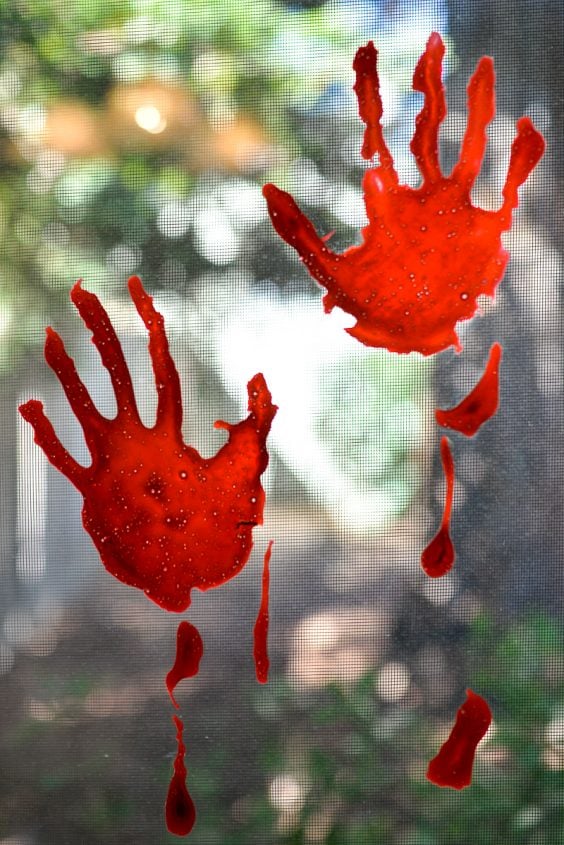 Bloody Handprint Window Cling from Hey, Let's Make Stuff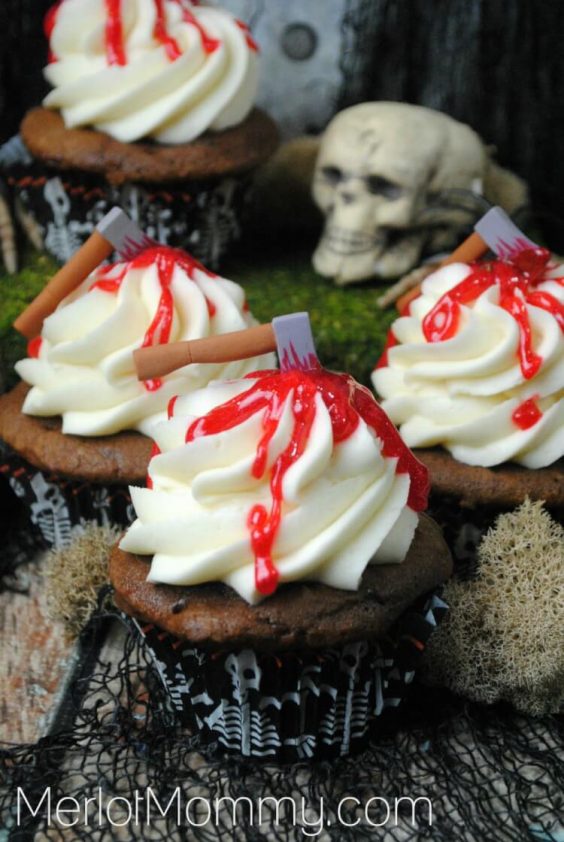 Bloody Axe Cupcakes from Merlot Mommy
Walking Dead Fan Gift Guide from illistyle
Killer Mini Bundts
These creepy (and easy!) Halloween cakes are perfect for any party! Spongy mini buttermilk bundts are drenched with red glaze and speared with candy knives.
Total Time
1
hour
50
minutes
Instructions
For the Buttermilk Mini Bundts
Preheat oven to 325 degrees F. Spray a mini bundt cake pan generously with baking spray, then set aside.

In a medium bowl, sift together flour, baking powder, and salt, then set aside.

Using a stand mixer (or hand mixer + large bowl), beat together butter and sugar on medium high until fluffy and crumbly, about 2-3 minutes.

Drop mixer speed to low and mix in eggs, one at a time, mixing 15-20 seconds in beween.

Keeping speed on low, add about 1/3 of the dry ingredients to the batter. Next, follow with 1/2 of the buttermilk. Continue alternating between the dry ingredients and the buttermilk until all have been added and batter looks smooth with no dry ingredients showing.

Pour batter into prepared mini bundt cake pan, filling each cavity about 3/4 to 4/5 full. This recipe typically makes enough for 9 complete mini bundts with a little a bit of batter left over. Go ahead and add the remaining batter to a 10th pan (can be any size the batter fits in) and bake it. The 10th cake will be crumbled and used to create the "brain matter" that helps keep the candy knives in place.

Place filled mini bundts pans on a baking sheet and bake for 20-30 minutes or until a toothpick tester comes out clean (I baked mine for 25-27 minutes).

Let mini bundts cool (still in their pans) for 20 minutes, then remove mini bundt cakes from their pans and transfer to a wire rack to cool completely.
For the Red Glaze
In a large bowl, whisk together powdered sugar, milk, vanilla, and red food coloring. If desired, add more red food coloring for a deeper color.

Note the consistency of the glaze. You want it to be thick enough that it's not too drippy but liquid enough that it will fall down the cake. If you'd like, test how the glaze falls on the 10th bundt cake you prepared (the one that will be used for crumbling). If you need a thinner glaze, add more milk, 1/2 tsp at a time. If you need the glaze thicker, add more powdered sugar, 1/4 cup at a time.
Putting it all together
Place your 10th bundt cake in a small bowl and crumble it into small pieces. Add about 1 tbsp of the red glaze to the bowl and then thoroughly mix it with the cake crumbles. I like to call this the "brain matter."

Scoop up 1-2 tbsp of the brain matter and roll it into a tight ball. Place the brain matter ball on the top indentation of the bundt cakes. Repeat this step for all the bundt cakes you have.

Using a pastry bag (or a ziplock bag with a hole in the corner), drizzle the red glaze on top of the brain matter in the center of the mini bundts, then drizzle it down the grooves of the bundt. See the video above for an example on how to do this.

Finish by placing a candy knife in the center of the bundt, securing it in the brain matter under the frosting.

Serve killer bundt cakes immediately. If you have extra brain matter or icing, you can sprinkle them on the plate around the killer mini bundts for a fun presentation. Once prepared, bundts can be stored in an air-tight container in the refrigerator for up to 4 days.