No Bake Pink Lemonade Cheesecake Parfaits
Single serve cheesecake parfaits with a hint of pink lemonade flavor on a bed of crumbled graham crackers. They're the perfect party treat for all seasons!
This post contains affiliate links. Read the disclosure policy.
About No Bake Pink Lemonade Cheesecake Parfaits
October is breast cancer awareness month, and as part of that effort, I joined in with a group of bloggers for a project called Cooking for a Cure.
Everyone involved developed a recipe with a "pink" theme as a show of support to all of those who have had their lives irrevocably changed by this disease.
While I was working on this recipe, there were two distinct people on my mind, the first of which was my father. He passed away from lung cancer more than three years ago, and while that's obviously not the same as breast cancer, it's also not very different; they're both devastating diseases that desperately need a cure.
As for the second person on my mind – her name is Lori.
We've known each other since we were 12, and she was part of my high school graduating class. We've kept in loose contact with each other over Facebook, liking and commenting on the random posts we make about our lives. I'm sure you know how it is – Facebook makes it so we can see all the best highlights of each other's lives.
Lori was diagnosed with breast cancer shortly after the birth of her daughter, but she never mentioned a word of it on Facebook until she was already in remission, almost a whole year later.
I can't even imagine how hard that must have been for her and her family, of keeping it quiet on services such as Facebook when it's your struggle each day, or even begin to understand the depth of her relief when the treatments started to work.
I reached out to Lori to see if she had anything she would like to say, contribute, or share to this post, given the importance of the topic and her personal struggle with it. As luck would have it, she did: a video recording of her telling her story, taken this year at Relay for Life in Orange, Virginia. I highly recommend watching – it's a very detailed look at how this disease can impact the plans of your life, especially when you also have two young children to consider.
So Lori, this post is in your honor. The next time I'm back in town, feel free to commission me as your personal chef for the day. I can make just about everything but breakfast.
And my specialty, clearly, is dessert.
My contribution this year to Cooking for a Cure were these ultra pretty no bake pink lemonade cheesecake parfaits. Because cheesecake is always best when you don't have to share it, amiright? The lemonade taste is light and the graham cracker crust is extra buttery and sweet. It's a cool, refreshing treat that can help you wrap up a long, hard day.
Please be sure to show your support for second base by checking out the links below! Lots of talented foodies are sharing creative ways to spread awareness for this important cause.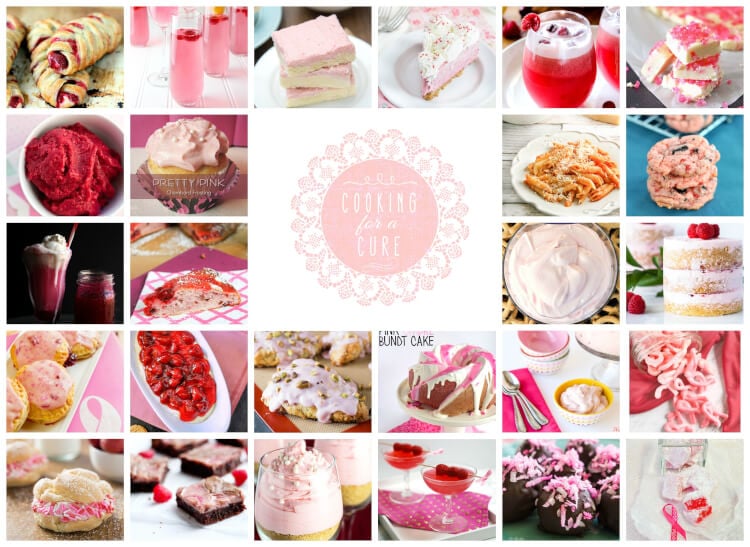 Strawberries & Cream Pastries by Domestic Superhero / Drink Pink Mocktail by Love Bakes Good Cakes / Strawberry Frosted Sugar Cookie Bars by Like Mother, Like Daughter / No Bake Raspberry Cheesecake by Sugar & Soul / Cranberry Raspberry Punch by Carlsbad Cravings / Pink Rock Candy Fudge by Kleinworth & Co. / Raspberry Sorbet by Food, Folks, Fun / Pretty Pink Chambord Frosting by Who Needs A Cape? / Lightened up Pink Vodka Sauce by A Dish of Daily Life / Strawberry Oreo Cake Mix Cookies by Just Us Four / Prickly Pear Soda Floats by Club Narwhal / Cherry Pie Scones by The Bitter Side of Sweet / Pink Fluff Dip by Mamal Diane / Pretty Pink Raspberry Vanilla Mini Cakes by Liv for Cake / Pink Pop Tarts by Life Currents / Strawberry Cheesecake Dip by The Love Nerds / Glazed Cherry Buttermilk Scones by Tastes of Lizzy T / Raspberry Vanilla Pink Ombre Bundt Cake by Cookie Dough and Oven Mitt / Berry Bliss by 365(ish) Days of Pinterest / Meringue Cookies by Mamma Loves Food / Cream Puffs with Strawberry Filling by Cooking on the Front Burner / Raspberry Cheesecake Brownies by Culinary Couture / Vanilla Berry Cocktail by Twin Stripe / Snowball Truffles by House of Yumm / Turkish Delight by With a Blast
Recipe Details
No Bake Pink Lemonade Cheesecake Parfaits
Single serve cheesecake parfaits with a hint of pink lemonade flavor on a bed of crumbled graham crackers. They're the perfect party treat for all seasons!
Ingredients
3

tablespoon

unsalted butter

,

melted

1

cup

heavy whipping cream

,

very cold

8

ounce

cream cheese

,

softened

1

teaspoon

dry pink lemonade mix

food coloring

,

(I used 2 drops red gel coloring)
Instructions
In a small bowl, mix together graham cracker crumbs and granulated sugar. Using a fork, continue to stir while pouring in melted butter. Fluff with a fork until there are no large clumps and all the graham crackers are damp. Set bowl aside.

Using a hand mixer (or your stand mixer again, if you're able), beat the cream cheese, powdered sugar, and pink lemonade mix until there are no longer any clumps of cream cheese visible.

Pour cream cheese mixture in with fluffed heavy cream. Mix together on medium speed. If desired, add food coloring at this time. I used 2 drops of red gel food coloring.

Decorate serving glasses as you see fit, whether it be to have one layer each of graham crackers and cheesecake (as pictured) or multiple layers of both. When adding graham cracker layers, do not worry about packing it down like you would for a standard cheesecake crust, because you are not baking this. Just lightly pour the graham cracker in and keep it loose.

Chill cheesecakes at least 1 hour before serving. Add sprinkles if on top desired.
Nutrition
Serving:
1
parfait
|
Calories:
756
kcal
|
Carbohydrates:
63
g
|
Protein:
8
g
|
Fat:
54
g
|
Saturated Fat:
31
g
|
Trans Fat:
1
g
|
Cholesterol:
166
mg
|
Sodium:
484
mg
|
Potassium:
202
mg
|
Fiber:
1
g
|
Sugar:
38
g
|
Vitamin A:
1899
IU
|
Vitamin C:
1
mg
|
Calcium:
130
mg
|
Iron:
2
mg
I do my best to provide nutrition information, but please keep in mind that I'm not a certified nutritionist. Any nutritional information discussed or disclosed in this post should only be seen as my best amateur estimates of the correct values.